It is not easy buying a car these days. We highlighted how complicated the car buying process at a dealership was in our September blog, 5 Tips to help you with your new car buying search. If you are utterly disinterested in doing your car buying at a dealership, a popular car buying service you should want to check out is Carvana.
Carvana has truly streamlined the car purchasing process to be totally online and from the comfort of your home. Gone are days of wasting hours at the car dealership to not even purchase a vehicle there. Now let's dive into what you can expect when you deal with Carvana.
Finding your Perfect Ride with Carvana
The first benefit that really stands out with Carvana is the quantity of its inventory. When you think about shopping online for a car, the amount you get to choose from is usually few and far between. That is not the case with Carvana; however, there are over 25,000 cars you can browse through on their website.
Along with the quantity of the car selections, you can also trust the quality of the vehicles. Every detail matters for each car as Carvana has a 150-point inspection process. This inspection goes through a wide range of car details to ensure that what you are buying online will be the exact car delivered to your home. Carvana also does not sell any vehicles that have been reported in an accident or have any structural damage.
Carvana also offers an abundance of final guarantees and extras once you make your purchase. A "Worry Free" guarantee covers all mechanical assemblies for 100 days, or for 4,189 miles of use. Pairing that guarantee with their 7-day return policy as well, you'll get a great opportunity to either love your new ride, or simply return it worry free. Additional extras that may seem small, but also show the extra mile of great service you can expect from Carvana are; a free carfax vehicle history report, free oil change, and an owner's manual copy of the car you purchase.
The now iconic, Carvana Car Vending Machine has 30 locations
Even though Carvana is strictly buying a car online, they now have 30 locations that showcase their super-cool Car Vending Machines. These tall, see-through structures that can hold up to 43 cars, look like an amusement park ride. They also allow the customer an incredible in-person final step to the buying process if they chose to do so.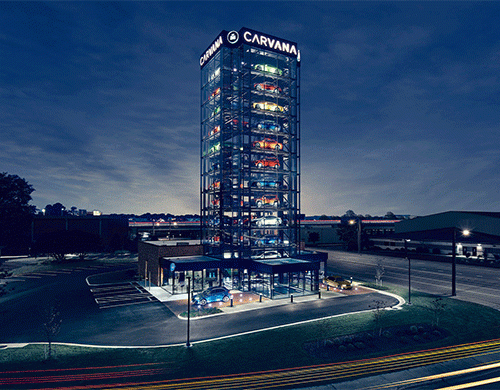 "Carvana is opening its 30th automated location for picking up online vehicle purchases.

The omnichannel platform for buying and selling used cars is launching its 30th car vending machine, situated in Richmond, Va. The red brick-and-glass structure stands 12 stories tall with a 43-vehicle capacity and serves as an automated fulfillment center for online car purchases.

The vending machine, the first Carvana has opened since introducing a "car slot machine" in Las Vegas in February 2021, is designed to offer a fast and convenient pickup option for customers who purchase a vehicle on the Carvana omnichannel platform for buying and selling used cars.

In addition to home delivery, Carvana customers in Richmond and other markets with a car vending machine can also choose to select a day and time convenient for them to pick up their vehicle at the automated car dispensing location. Upon arrival, they will be greeted by a customer advocate and receive a commemorative, oversized Carvana coin to activate the automated vending process and watch their vehicle descending through the brightly lit structure from inside the all-glass tower."

https://chainstoreage.com/carvana-unveils-latest-car-vending-machine
Help give back with Carvana
Carvana isn't just streamlining the car buying process, they are giving back to people in need as well. Their "Carpool" Referral program is a great way to pay it forward and help set up a future car donation to a local hero. If you refer a friend that purchases a new vehicle from Carvana, you will get a check for $100, and your friend will receive $500 off their purchase. Then for every Carpool referral, Carvana adds $100 to the Carpool charity fund. When the fund reaches the goal amount, Carvana will buy a car for someone in need that is a local hero to the community.
If you are on the hunt for a new vehicle this holiday season, give Carvana a shot! The quantity and quality of the car selection are very impressive. Overall, their very easy-to-use and worry-free online car buying process is made with the potential customer totally in mind.
Once you complete your new car purchase, Sticker Quicker should be your next call. Skip the busy DMV and go with Sticker Quicker to get your new resignation & tags, license plate replacement, and title services all taken care of hassle-free. Call 916-270-6400 or visit stickerquicker.com today to get started the Sticker Quicker way!
References:
https://chainstoreage.com/carvana-unveils-latest-car-vending-machine