The year 2020 brought some unsettling things into the world—mainly the new coronavirus. The World Health Organization declared COVID-19 as a pandemic, owing to its ever-increasing patients throughout the world. There are at least 96 million people in the world who've been affected by this highly contagious virus and over 2 million deaths.
California has had a steady increase in COVID-19 cases and is now the state with the largest population to be affected by the coronavirus. Because of the contagious nature of the virus, states all across the US had to go in lockdown. Working and studying from home is the new trend.
With many places and organizations trying to adapt to the new normal, with the introduction of online technologies and virtual systems gaining popularity all over the state. Even government institutions have shifted to online and virtual platforms so they can continue offering their services.  
As a result, the virtual DMV system was introduced last year in California.
DMV's Have Opened Up
Against the backdrop of uncertainty, institutions made adjustments to their usual modes of work. Places that have managed to control the virus are moving towards normal life, whereas places with a high number of cases are making alternatives.
DMVs all over California have recommenced their operations, albeit with a few restrictions. As we move further into 2021, DMVs are offering to renew people's boating registrations. DMVs are now offering these services alongside their regular registration and licensing assistance. 
The Virtual DMV System
In California, the DMVs are current only catering to urgent matters at the field offices. The Department of Motor Vehicles has opened both a virtual platform and field office. The Field office system is working, but the process is very slow. They are also not taking walk-ins, dealing first with canceled appointments, and then any new appointments which are considered urgent. The DMV will decide which matters are urgent.
People that have attempted to utilize the DMV services are generally disappointed and unsatisfied. Multiple people have reported that the lines at DMV centers are horrible as acquiring vehicles and driving licenses is in-demand by many. The lines to get inside the office are longer than before, with many not even able to get to the end of the line. And while the DMV has set up a virtual system, it's inefficient. Those who tried using the online system reported it's not working. The virtual set-up requires users to upload their documents, but barely any have gotten a response. The system is encountering errors when uploading and once the upload is made, there is a 2-4 week wait for the DMV to respond to give you feedback on your transaction. It might take them all this time to give you feedback on missing documents or signatures. If any missing documents are found, then you have to upload it again and wait. Users are just waiting for contact and have no one to call to get updates.
Most people are unsatisfied with the virtual DMV system and are demanding a quick and easier alternative.
Why Is Sticker Quicker Better?
The virtual DMV system, although a good initiative, has failed practically, and people need an alternative. Thankfully, Sticker Quicker has come to the rescue for all.

Sticker Quicker is a certified and efficient DMV service provider. Unlike DMVs, which are only catering to urgent matters, Sticker Quicker offers the following in-person services:
Registration Renewal
Sticker replacement
Plate Replacement
Registration replacement
Out of state transfer also known as Non-resident registration
Transfers
Title-less transfer (Transfer without title missing)
Replacement or Duplicate title
We also offer the following services online:
1. Registration Renewal
2. Replacement License plates
3. Replacement Stickers

Added Benefits:
1. Instant download of registration card.
2. Next-Day delivery
3. All packages are shipped with tracking

Whether you need to get a new license plate, get your registrations renewed, or stickers, all can be done through Sticker Quicker at the fastest speeds. With Sticker Quicker, you can renew your boating registration without standing in any line.
Once issued, the stickers are shipped out the next day. The turnaround time for Sticker quicker is around 1-2 days, and their website is handling transactions for renewals almost immediately.
How to Use Sticker Quicker?
Unlike the virtual DMV system, Sticker Quicker is an efficient service. Moreover, with Sticker Quicker, you won't have to let your boat stay in the docks this summer.
Wherever you are, you can get your vehicle's registration, or your driving licenses renewed. Here are the necessary steps for using Sticker Quicker:
Open the Sticker Quicker website. On the home page, you'll see the relevant options right in front of you.
Select the service you need (registration renewals or replacement); you'll be directed to a simple form.
In the form, fill out your license plate number and last 3 of VIN or full VIN number and enter your email.
Once you've filled all the relevant information, click on 'renew or replace now' to submit your e-application.
After you've filled and submitted the form, you'll get an e-copy of your registration, which can be downloaded to your phone for safe-keeping.
You'll be provided with a tracking number for your shipment of stickers and physical registration card. .
Within 24-hours, your license/replacement will be delivered to your shipping address.
These are all necessary steps you would have to follow to process your request on Sticker Quicker. If you're going for renewal, make sure you sign up for a virtual renewal reminder, so you never have to go through the DMVs again. Besides this, Sticker Quicker also allows you to update your registration address, and you can choose where you need your requested services delivered.
Comparison Between Systems
We've covered everything Sticker Quicker has to offer. However, here is a condensed checklist of all the services Sticker Quicker and the virtual DMV system provide.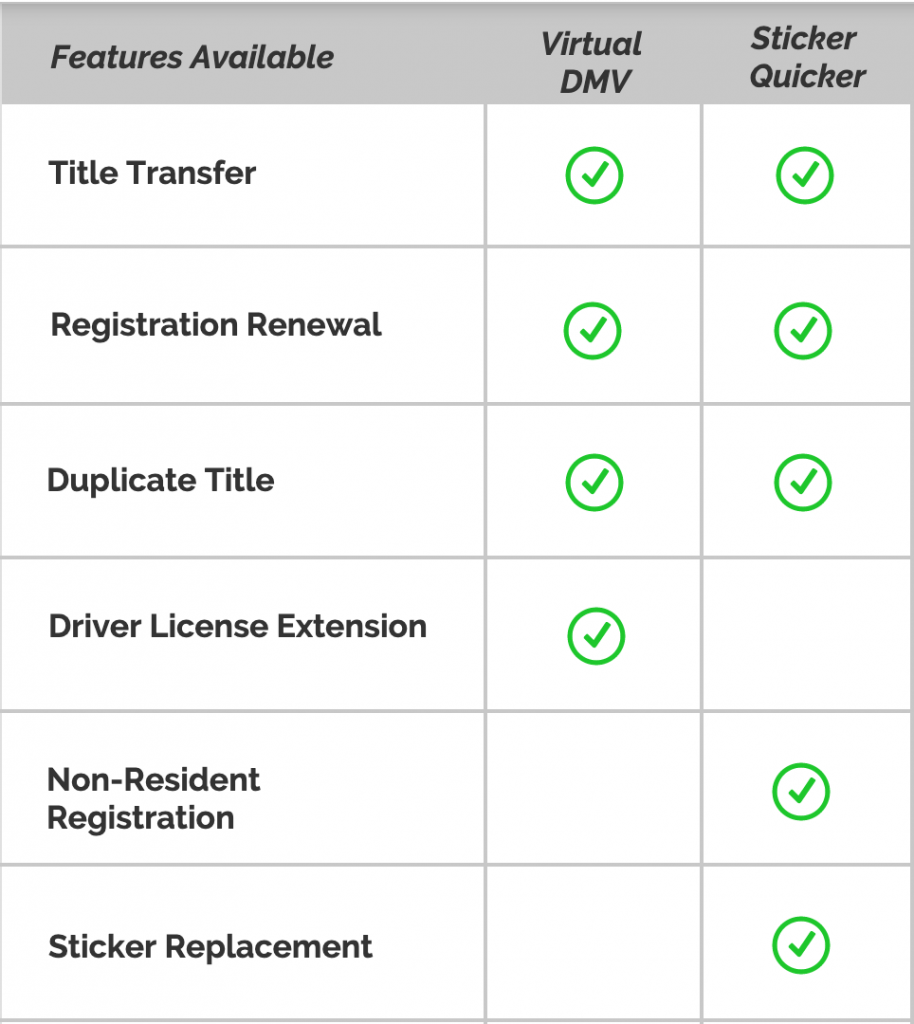 These times are uncertain and anxiety-inducing. However, Sticker Quicker has come to the rescue. The comparison table illustrates the variety of services Sticker Quicker is offering at much faster speeds than DMVs. So, there's no need for you to make lines outside the DMV office when all you need to do is open your smartphone and submit your request to Sticker Quicker.