Due to the high increase in the number of vehicle owners, the government of California introduced high occupancy vehicle lanes or HOV lanes to manage the congestion of traffic. HOV lanes, also known as carpool lanes, diamond lanes, 2+, or 3+ lanes, allow vehicles with a specific number of occupants to access these lanes to promote maximum ride-sharing and improve traffic flow. This article will detail how to access these lanes.
Keep reading to find out everything you need to know about access to HOV lanes.
What are HOV Lanes?
High occupancy lanes or HOV lanes are restricted lanes that are opened for carpooling, vanpools, and transit buses. These lanes are used to minimize traffic congestion and are only restricted due to peak traveling hours. HOV lanes were created to increase the average occupancy of the road. This allows reducing air pollution due to increased congestion of traffic on the road. Hybrid cars are allowed on the lanes because of their low emissions. This would allow making space for high emission vehicles on other lanes.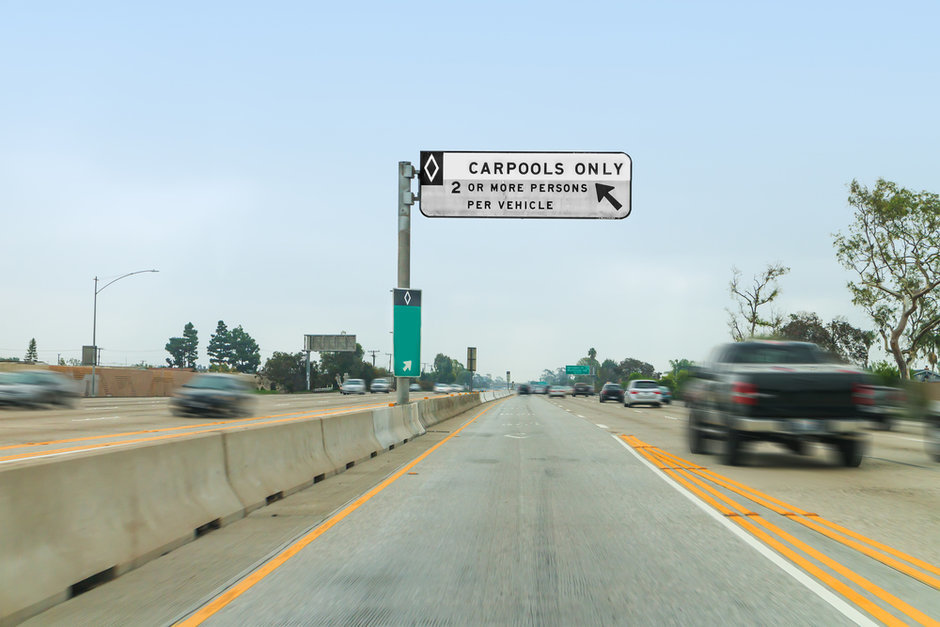 On the other hand, since transit buses have increased emissions, they are also allowed to access HOV lanes so that the emissions can be minimized, resulting in an overall reduction in air pollution.
Criteria for Accessing HOV Lanes
The idea of accessing HOV lanes might be tempting, but it only allows vehicles and owners that are able to follow a certain number of criteria, including Access OK Decals, Number of Occupants, Vehicle Type, Tolls, and Income.
Access OK Decals
The DMV issued a clean air vehicle or Access OK Decals in January 2020, which is valid until January 1st, 2024. The decal shows that the vehicle meets the standards of emissions. This means that vehicles that have low fuel emissions will be allowed to access the HOV lanes. These decals are issued under California's super ultra-vehicle (SULEV), inherently low emission vehicle (ILEV), and transitional zero-emission vehicle (TZEV) evaporative emission standards.
The purpose of the decals is to illustrate vehicles are functioning with low emissions and may be allowed to access the HOV lanes in order to make space for those that have high exhaust emissions. In addition, vehicles that are running on Compressed Natural Gas(CNG) or Liquefied Petroleum Gas(LPG) can also apply for the decals. Vehicle owners can access the CARB website to know what vehicles are eligible to access HOV lanes. After this, you can easily apply for the decal by sending an application to the DMV and including a check of $22 made payable to them.
On the other hand, if you're purchasing a new vehicle or leasing it, you need to check if it will include an HOV decal. If not, an application for the decal must be filled out. It is essential to know that the decals come with an expiration date. Decals issued in 2018 will no longer work in 2022. Similarly, white decals expired on January 1st, 2019, and must be renewed. However, drivers with low income carrying these decals would be provided with new decals.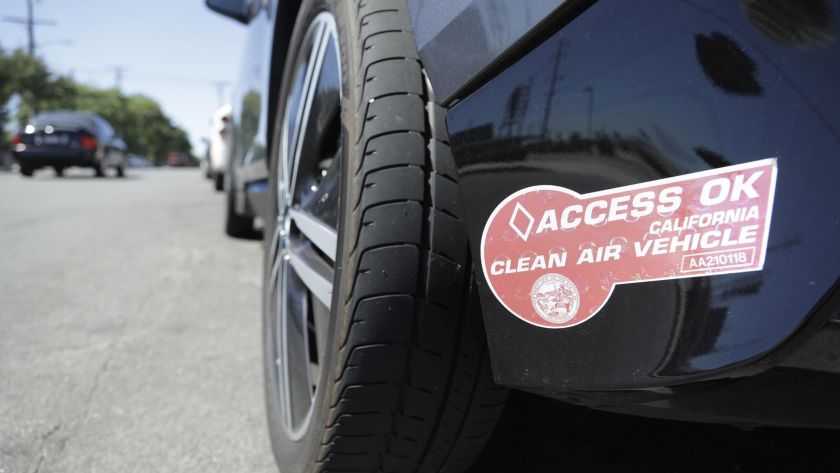 Number of Occupants
Another element that is considered for accessing the HOV lanes is the number of occupants in the vehicle. Regulations state that vehicles with more than two occupants are allowed to access the HOV lanes. In addition to 2+ HOV lane access, some states allow 3+ HOV access, which means that they allow vehicles with more than three occupants to access the HOV lanes.
Vehicle Type
Electric vehicles (EVs), hybrid electric cars, plug-in hybrids, and battery electric vehicles with the required number of occupants are allowed to access the carpool lanes. In addition, motorcycle riders are also allowed to access these lanes; however, some states allow only two occupants per motorcycle for access.
Buses that are designed to transport sixteen or more passengers, including the driver, are allowed to move on the HOV lanes. Vehicles with single occupancy but that have paid the HOV lane fee (toll lane only) are permitted to access these lanes. Bicycles and public utility vehicles are also allowed to access these lanes.
Tolls
As highlighted earlier, vehicles that have the necessary occupant numbers can access the HOV lanes by paying a respective toll fee. Note that the toll fee may vary based on changes in the traffic density. These tolls can be collected by staffed toll booths, automatic number plate recognition systems, or electronic toll collection systems. In addition, these systems can also use RFID transmitters for extensive monitoring that can charge drivers on their own, although their use depends on the demand based on traffic congestion. Congestion pricing is a policy applied when the congestion in the lanes increases. The motive of this policy is to minimize traffic congestion by increasing the price of tolls.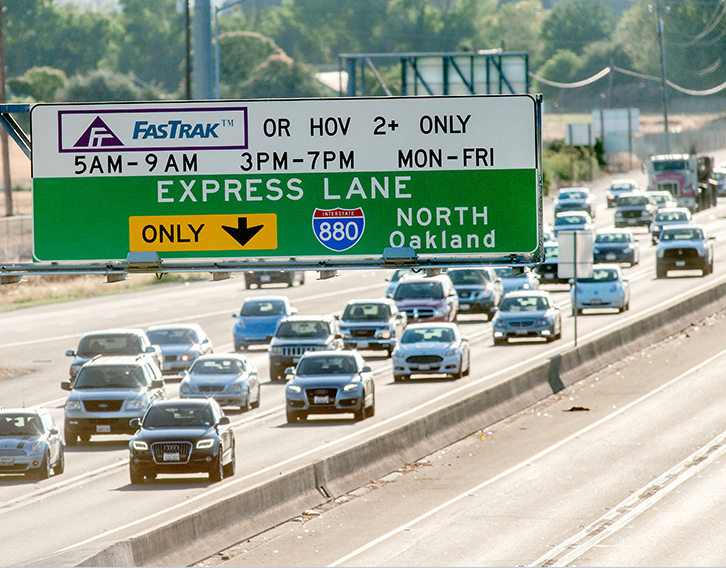 Income
Previously, HOV lane decals were only available for those who had expensive EVs. However, an amendment law was made that made it available to those that are earning less than $65,777 a year, which is 80% of California's average income. This would benefit people that are earning equal or below as they will prevent congestion, which would help them consume lesser fuel, and saving money on fuel consumption due to traffic congestion.
Benefits of HOV Lanes
The use of HOV lanes will not only minimize traffic congestion during peak hours but also encourage drivers to invest in electric vehicles. The number of EVs in California is growing significantly and is targeted to grow from 600,000 to 5 million by 2030. In addition, the investment in EVs will help minimize overall emissions that will lead to reducing air pollution and fuel consumption altogether. Moreover, the access to HOV or carpooling lanes would allow efficient ride-sharing, since vehicles will be picking passengers to share rides that would increase occupant numbers, making the lane accessible for the vehicle.
As much as the HOV lane initiative is feasible, critics say that the use of the HOV lanes is not helping in removing congestion as they are already too crowded. What's left to see is how well the initiative will work, and what possible positive outcomes can be achieved for the future.
Sources
https://www.greencarreports.com/news/1115014_heres-how-californias-carpool-hov-lane-stickers-work-now
https://www.dmv.ca.gov/portal/dmv/detail/vr/decal
https://afdc.energy.gov/laws/HOV
https://www.govtech.com/e-government/California-Defines-Rules-for-Hybrid-ElectricGas.html